It's a busy summer and just round the corner it's about to get busier. Students will start moving soon. Many will have heartfelt goodbyes as they move back home to look for work, others will take their first steps into their new home. For many years we have been working with a letting agent who only deals with student lets.
We don't hear from them between October and May. When May arrives with its first signs of summer, we receive a few emails and phone calls to discuss the plan for July, August, and September. To give you an idea of the numbers this agent provides, we have included a small graphic from 2019. Keep in mind that the High Street Agents inspections are a mixture of 1, 2, 3, 4 bed properties where the Student Letting Agent properties are 6, 7, 8 bed properties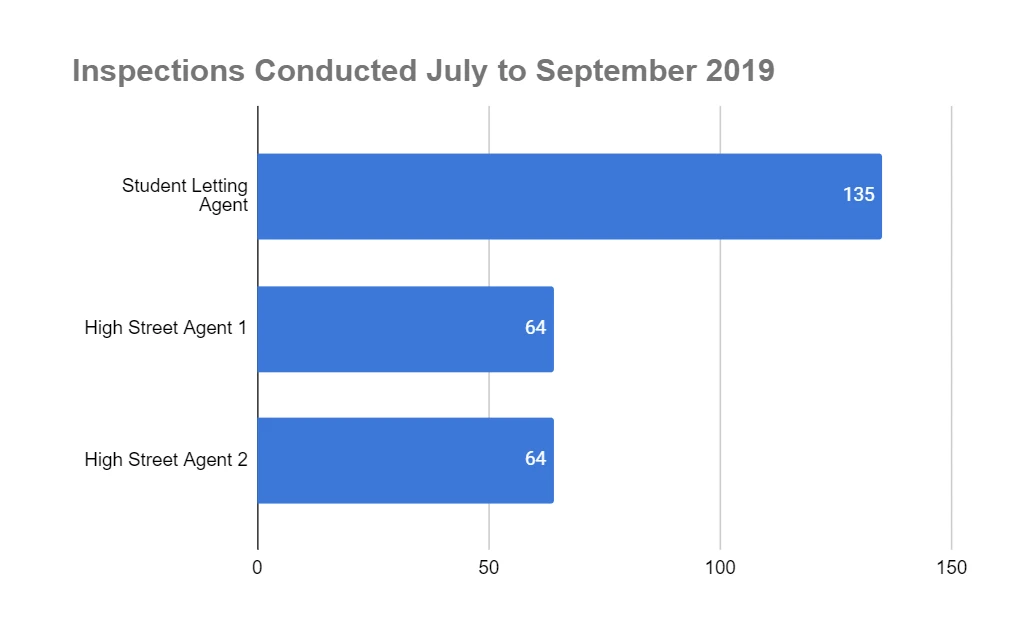 From mid-July, the first check outs begin. You never know what you will walk into. Every student house is different with its own differences and / or problems, though student properties have a bad rep. This is not the case, because of the legal obligations for the landlord, they are often better or similar to a typical 2 bed flat. It just feels worse because these houses are bigger. Yes, you will come across that one property that isn't cleaned in months, but it's a tiny percentage. I once walked into a property with rotting oysters sitting on the worktop. This doesn't happen as often as you might think, but when you're inspecting 135 student properties compared to 128 'normal' properties, the percentage feels higher.
There's also the added pressure of needing to complete the checkout in a timely manner so the electrician, plumber, gas engineer, decorator and cleaner can all do what they need before the next batch of students arrive in 4 week's time. The entire process can be quite exciting. There's a lot of pressure and long days but it is definitely different to the 2 bed flats in the center of London you come accustomed to.
There are also a lot of stakeholders involved, in a typical residential letting you have 3 stakeholders, Landlord, Tenant and Agent. With students, you have Landlord, Tenant, Agent, Tenants Parents / Guardians, Council (Student lets are HMOs so there are more laws to abide by). When there are so many stakeholders there will always be questions and issues that arise, it could just be a parent crying as they leave their child in their new home or maybe the property is dirty and all 7 students and their parents are unhappy about it, that's a potential of 21 complaints if every person emails / calls.
Therefore, we have created the below guide on how to best complete a student let inventory; it shows the best way to complete an inventory and check out so that you can cope with the added pressure and still provide an amazing report. Download Here